Joyful Breeze Windchime
(Smallest Size)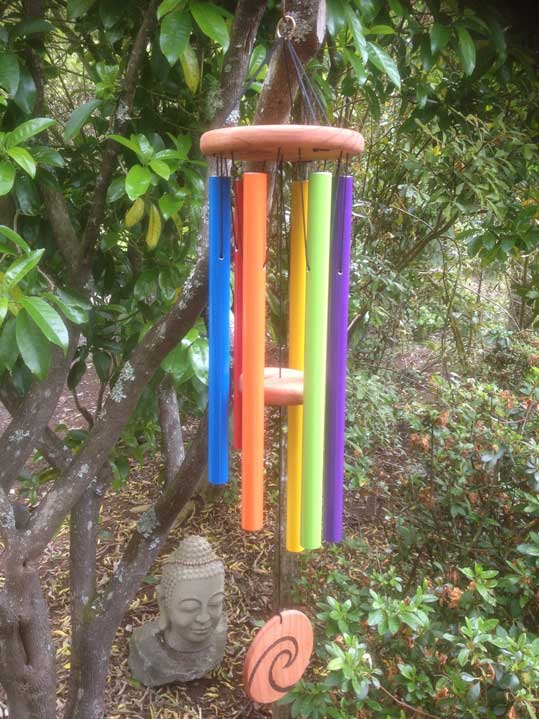 Windchime, Joyful Breeze (Rainbow colour option)
This Windchime Is Tuned To A Minor And Has A Happy, Joyful Sound.
It is available in a range of colours. Please check out the colours on the chart below.
Joyful Breeze Windchime specifications
Chord: A minor | Colours: Multiple | Pipes: 6 | Length: 355-507mm | Weight: 1.4Kg | Price: NZ$159
The windchime pipes
The aluminium pipes used for our windchimes are hardy and naturally corrosion resistant, even in salty coastal conditions. The colours are powdercoated (an enamel-like finish baked on at 200°C) and tuned to A minor. The windchimes are hard wearing and fade resistant. Precise cutting of pipes ensures concert pitch tuning in pentatonic scale: A minor
Timber parts - windcatchers and flyers
Redwood timber is used for its durability, stability and pleasant appearance. 

Flyers (windcatchers), are available in several shapes including circle, dolphin, leaf, ellipse and oval. Please check out our flyer options. 

All wooden components have been oiled and waxed to ensure their durability for many years.
Windchime strings
Strings of UV resistant polyester braid complete this musical instrument which can be safely hung outdoors.
Windchime Colours Options

Rainbow

Red
Dark green

Lime

Purple
Sky blue
Sunshine yellow
Wineberry

Orange
Windchime Flyers Options

Dolphin
Plain ellipse

Plain round

Koru

Plain oval
"The windchimes are so beautifully made and sound amazing ...."